Overview
Specifications
Gallery
Overview
VALTRA T SERIES: THE 5TH GENERATION
When you need more from your tractor, the T Series is the ultimate precision tool with plenty of muscle. Perfect all-round visibility means that you have total control over your land from the comfort of your cab. And by letting technology work for you, you can rest assured knowing every aspect of your workday is handled down to a T.
Award-winning power and efficiency

Beauty, brains and brawn — the award-winning T Series tractor is a winner on all fronts, combining the power of smart technology with the strength of a 6-cylinder engine. Step into the cab and the best tractor experience is all around you with perfect 365 day and night visibility and plenty of space. The convenient A-pillar display puts information and control right where you need it. Valtra Smart technologies give you all-encompassing control over your work. The king on any terrain, the T Series gets going and moves smoothly while you reap the benefits. When you value power, precision and profit, the T Series is your working machine.
VALTRA T SERIES IS YOUR MODERN WORKHORSE
The T Series is made for you, with built-in comfort and perfected ergonomics. It delivers power when you need it and gives you full control in farming and contracting, complete with customisation options.
ROBUST STAGE V ENGINE
The 6-cylinder AGCO Power engine is made to last. With low revs and high torque, it has the durability, efficiency and power to face any job. The Stage V engines have hydraulic lash adjustment and a 600 hour service interval, which translates into lower service costs and a longer lifecycle.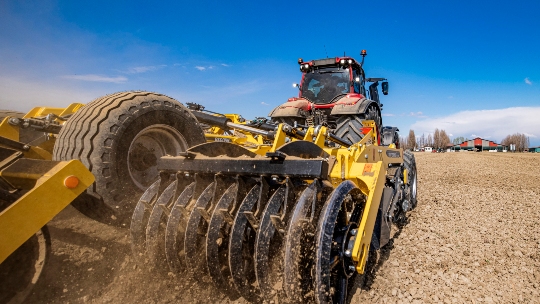 POWER TO PULL ANY TASK
The Valtra T Series is a great choice for a multitude of tasks that demand power, such as lifting, loading and pulling – without compromising on agile movement. Front linkage does not limit the excellent turning angle of the front wheels and neither does the front loader. With the powerful front and rear hydraulics, you will save time and money, and what's more, you will have easy control even with heavier implement combinations.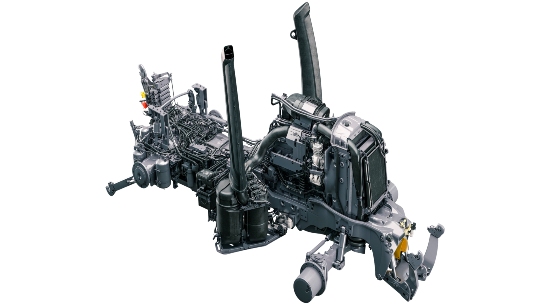 GUARANTEED STRENGTH
The T Series is a versatile and agile working machine that makes no compromises on power on the ground or for PTO. The 6-cylinder stage V engine with hydraulic lash adjustment guarantees strength that doesn't run out. 2000 bar injection pressure ensures maximum precision and fuel efficiency. A right-sized turbocharger with electric by-pass valve provides high torque even at low revs. Advanced engine features comply with the latest emission standards without additional costs for you.
Right-sized AGCO Power engine
The beauty of the 6.6 and 7.4 liter engines is that the displacement is ideal for the power, meaning efficient overall fuel economy and strong pulling power on all engine revs.
Robust exhaust after-treatment
You can run your tractor without worrying about congested engine and expensive services. The engine after-treatment system cleans the exhaust according to the Stage V standard – without compromising on visibility.
Best overall economy
Through a partnership of 70 years, Valtra and AGCO Power have optimised fuel consumption to the most efficient level. Moreover, the T Series engines have Hydraulic Lash Adjustment for lower service cost.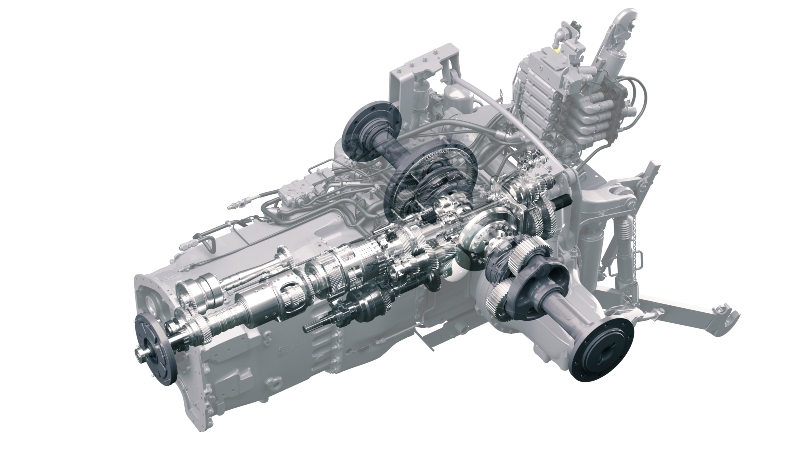 UNBEATABLE VALTRA TRANSMISSION
Valtra's T Series' transmissions are designed and made by Valtra, and the fifth generation brings again new features. With Valtra you can drive your Powershift tractor like a CVT. In automatic modes the transmission does the shifting based on your acceleration and torque requirements, so you always get the best fuel economy and the power you need. Faster range shifting improves your driving experience on all models, and with the A-pillar display, your machine can be easily configured for full performance.
RANGE OF CHOICE
HiTech
Five step powershift
Open centre 73/90 litre hydraulics
Mechanical spool valve controls
Basic or Armrest controls
Smart A-pillar display
Active
Five step powershift
Load sensing hydraulics
Mechanical hydraulic controls
115 lpm standard pump capacity
Optional 160 l/200 l pumps
Smart A-pillar display
Versu
Five step powershift
Load sensing hydraulics
115 lpm std pump capacity
Optional 160 l/200 l pumps
SmartTouch user interface
Smart A-pillar display
Direct
Efficient Valtra CVT
Automatic and manual modes
Load sensing hydraulics
SmartTouch user interface
Smart A-pillar display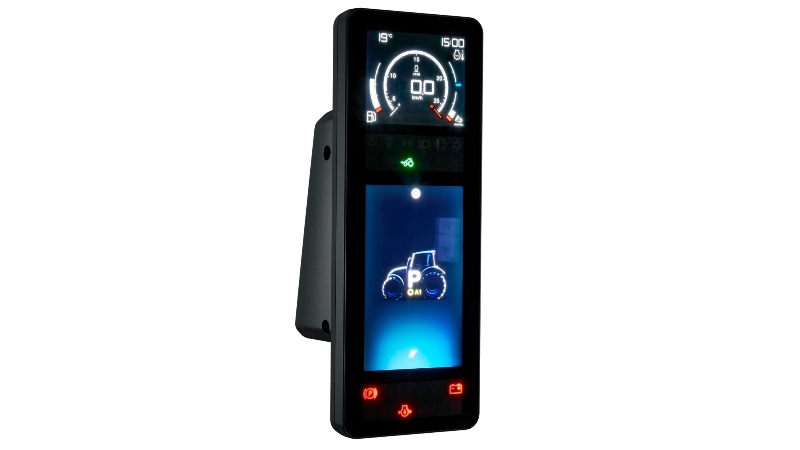 A-PILLAR DISPLAY
The large, clear and A-pillar display comes as standard with all models. It displays the needed tractor information, enables the control of key tractor settings and helps follow the tractor's performance. All settings are easily controlled with an encoder (rotating ring) and two push buttons.
Top
The top of the display shows essential information such as your ground speed, clock time, the engine RPM and fuel levels. When needed, the rest of the display can be dimmed.
Middle and bottom
The middle and lower screens show the tractor's transmission status and performance including pre-set gears and cruise speeds. You can configure the areas to display information that is essential to you and your tasks. In HiTech and Active models this also works as an easy-to-use tool for settings.
Information and warning lights
are also integrated in the A-pillar display as two LED icon matrixes, lit when needed.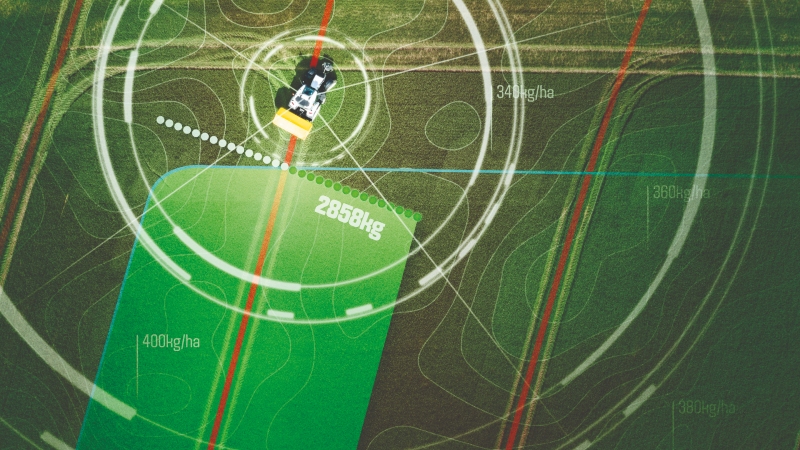 SMART FARMING BUILT IN
Valtra Smart Farming is a set of technologies that work seamlessly together – Valtra Guide, ISOBUS, Section Control, Variable Rate Control and TaskDoc®. A key design principle of our technology solutions is the ease of use.
Use Smart Farming technology to be more productive and to save inputs and increase the yield of your fields. The N Series is packed with convenient technology that makes all your tasks easier.
All smart functions can be controlled with our innovative SmartTouch armrest. Tasks are managed with taps and swipes, just like your smartphone, but even easier. You can have the Smart Farming features also in Active and HiTech models and control them through the SmartTouch Extend screen.
Valtra Guide helps to improve efficiency, reduce overlap and enhance operator comfort, whatever the farm size. This is the future – happening right now!
Specifications
MODEL
MAX POWER
MAX. BOOST POWER
MAX. TORQUE NM
HP
kW
HP
Kw
STD
BOOST
T145
155
114
170
125
640
680
T155
165
121
180
132
680
740
T175e
ECO
175
129
190
140
850
900
STD
175
129
190
140
740
780
T195
195
143
210
154
800
870
T215
215
158
230
169
870
910
T235 (HiTech/Active/Versu)
235
173
250
184
930
1000
T235 Direct
220
162
250
184
900
930
T255 (HiTech/Active/Versu)
235
173
271
199
930
1000
Gallery