Overview
Specifications
Gallery
Videos
Overview
For easy and efficient ploughing.
Conventional mounted ploughs equipped with stepless furrow width adjustment, manual or hydraulic. Increase your capacity by 30 % while saving 20% fuel!
Under difficult conditions one or more bodies can be locked in a parked position.
The plough can grow with the size of your tractor by adding 1 extra furrow.
Mechanical front furrow width adjustment is standard. However, a hydraulic cylinder is recommended for ploughing on side slopes to control the front furrow width "on the move".
The advantages:
Kverneland steel and heat treatment technology for the complete plough
robust and reliable construction
auto-reset system for non stop ploughing
equipped with the Variomat/Vari-width® system, 30-50cm (12"-20")
furrow width adjustment is mechanic for AB and hydraulic for AD from tractor seat
easy to operate
extendable by one furrow, 2 to max.5 furrow ploughs
AD can be extended to a 6th furrow
Highlights
Unique frame robustness
Importance of heat treatment
The frame is an essential part of the plough construction. For Kverneland quality standards, a non heat treated part is a weak part !
Kverneland frames are heat treated by induction twice. The temperature transfer to the steel is closely monitored. The frame gains 3 times as much strength. This unique Kverneland induction processes provides robustness and flexibility while ensuring an outstanding durability.
Stronger but not heavier
For the equivalent Kverneland robustness, competitors would use more steel in thickness or in dimensions, therefore producing a heavier frame.
Heavier frame impacts negatively pulling forces, wearing of parts, lifting capacities, tractor life time, and fuel consumption.
Long lasting
Weldings are also a critical weakness for a plough frame. Kverneland frames are supplied as one sole part!
Frame availability
100 x 200 mm
2 to 4 furrows, extendable by 1 furrow. Max. 4 furrow AB plough
3 to 5 furrows, extendable by 1 furrow. Max. 5 furrow AD plough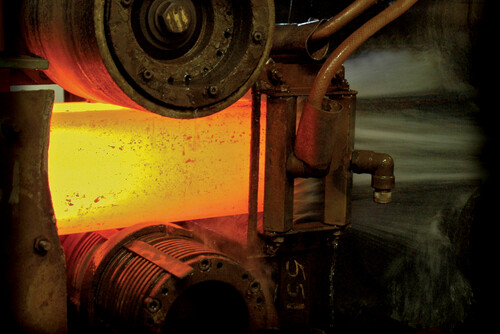 ---
Vari-Width® (Variomat) System
Stepless Vari-width® system for infinite adjustments of working width, from 30 to 50 cm (12 to 20") depending on models. Kverneland's world patented system is available either with hydraulic or mechanical furrow adjustments.
Benefits:
Easy variation of ploughing capacity
Perfect match at all time between tractor capacity, implement and soil conditions
Time saving: up to 30% more capacity
Cost saving: up to 18% reduction in fuel consumption in relation with increased ploughing capacity
Better work: plough up to the hedges, fences, trees and ditches
Minimum wear: unique non-wearing linkage joint between the beams and the mainframe section
Perfect line of pull at all time. Kverneland's Vari-width offers the correct parallel linkage along the whole plough. Therefore, lower draft requirement, minimum wear and tear.
Specifications
| | | | | |
| --- | --- | --- | --- | --- |
| Model (Auto-reset) | | | | |
| Type | Interbody clearance cm | Under beam clearance cm | No of furrows | Furrow width cm |
| AB |  85 | 70/80 | 2 – 4 | 30 – 50 |
| AB | 100 | 70/80 | 2 – 4 | 30 – 55 |
| AD | 85 | 70/80 | 3 – 5 | 30 – 50 |
| AD | 100 | 70/80 | 3 – 5 | 30 – 55 |
Gallery
Videos